Top equipment and careful dispatch/processing of your merchandise, ensuring your complete satisfaction; this is our measure of success.

Our responsibility includes internal and external quality testing which verifies the high quality of our services.

We professionally optimise your flow of goods with regard to time and costs, which means an excellent cost-benefit ratio for you. In our logistics chain we can offer you all additional services (value-added services) which we carry out competently and reliably.
Receipt and inspection of goods – if required also with detailed checks inside the packaging and functional tests.
Inventory and warehouse management
Maintenance service
Acceptance and processing of orders
Batch tracking
– Serial no. tracking
Same day picking
– Item picking
– Range picking
– Co-packing (cundling)
– Product personalisation
– Pricing
Packaging and dispatch
Printing and enclosure of customer documents (e.g. delivery note, guarantee cards)
Returns and complaint management
Empty packaging management
Destruction and disposal
Acceptance and processing of orders
We take every single client requirement into consideration and individually adjust the detailed order-specific processes. Our greatest benefit is the reliability and punctuality in order implementation. In this area of our business we offer the following extra services:
Direct and special trips
Fixed appointment collection/delivery
Overnight service
In-night service
2-person delivery/collection service
Evening, weekend and public holiday service
Secured transports – from a certain goods value with armed escort vehicle
As well as these extra services we naturally also offer industry standard services such as:
Group, part and full loads
Transportation of anything from small packages to over-sized special shipments
Professional disposal (goods and packaging)
Time slot booking for loading and unloading
Cash or payment on delivery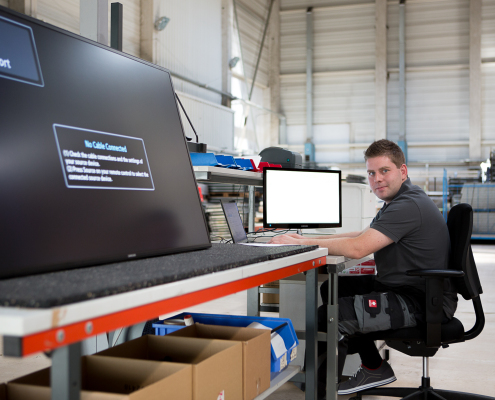 Our warehouse customers are connected to our warehouse management system "SYNLOG" and can access all the information about their goods at any time, e.g. the stock levels, required product information, a range of analyses and also the entire history.
Loading and unloading is supported with a barcode scan system.