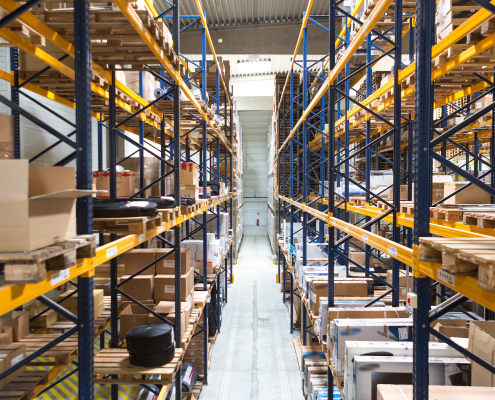 Companies who need to store their goods require a clean warehouse with plenty of space, absolute security, permanent availability of goods and real-time stock status. If it is important that you are able to access your conveniently situated warehoused goods at any time then we are the right partner for you!

Our warehouses are very conveniently located – directly at the A2 exit Bad Vöslau. If you decide on i-Logic warehousing then there is a modern high rack pallet warehouse with a capacity of more than 3,500 parking spaces awaiting you. As well as this there is a 500 m2 block warehouse including a section which is set up and operated as high-security sealed storage. The stock-keeping is managed via our warehouse management system "SYNLOG". Our warehouse clients are connected to this and can access all the information about their goods at any time, such as e.g. stock levels, product information, analyses, history etc.

Our barcode scan system means that the product serial numbers can also be recorded on dispatch and receipt of goods if desired by the client.

Process optimisation is carried out through supply chain. We offer independent processing of goods scheduling, maintenance of supplier and item master data, monitoring of delivery dates and qualities, and development of tailor-made logistics concepts in cooperation with your specialist departments.

We are happy to support you and your team in analysis, budget preparation, product and resource planning as well as in the identification of available potential.
Our CCTV camera system records everything in our warehouse and outdoor area 24 hours a day, 365 days a year. The recordings are saved and available in HD quality.

Our alarm system is state of the art and is part of our standard configuration.

We are an unprejudiced company however we work exclusively with our own permanent warehouse staff, which means that we at no time employ project employees or temporary workers in our warehouses.

Our warehouse team is trained well and intensively. In particular with electronic products it is very important that functionality checks upon receipt are carried out by technically trained personnel. We also offer this as one of our services.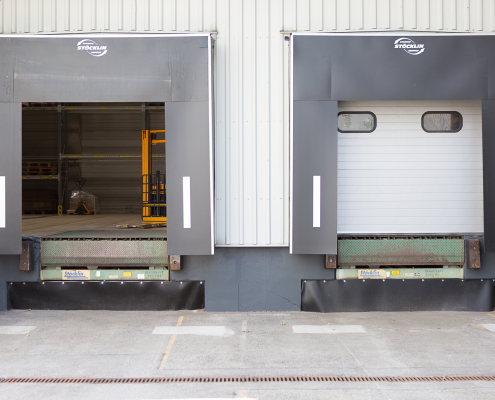 In order to guarantee secure loading and unloading for every truck size, irrespective of weather, all of our loading gates have
Dock levellers
Tarpaulin gate seals (for a weatherproof closure between the truck and the loading ramp)
Acceptance and processing of orders
Receipt and inspection of goods
Inventory and warehouse management
Batch tracking
Same day picking
Packaging and dispatch, delivery note printing
Returns and complaint management
Rack storage
Block storage
Temporary storage
Returns storage
Sealed storage
Campaign storage
Advertising material storage
Fine picking
Packaging
Item picking
Range picking
Pricing